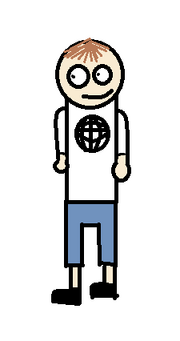 Andrew is one of the main characters. He enjoys dancing and is the moneymaker of the group.
Money, as Andrew says, is important. He is the only person in The House that works for money.  He has a bank account that he adds to every week, and he has a wide collection of multiple different Piggy Banks.
Dancing is one of Andrew's favorite hobbies, especially at parties. He gets most of his excersice from playing games like "Just Dance" or "Dance Dance Revelution".
His friends are the closest people he knows. He's known them for 8 years, and has lived with them for 2. When playing video games though, he gets very competitive.
Is 20 years old.
Ad blocker interference detected!
Wikia is a free-to-use site that makes money from advertising. We have a modified experience for viewers using ad blockers

Wikia is not accessible if you've made further modifications. Remove the custom ad blocker rule(s) and the page will load as expected.